Shopping Cart
Your Cart is Empty
Thank you for your business!
You should be receiving an order confirmation from Paypal shortly.
Exit Shopping Cart
CLICK ON YOUR DESIRED PROPERTY BELOW FOR DETAILS
THE PROPERTIES REVELINLUXURY SPAIN 1.
REVELINLUXURY BULGARIA 4.
SPAIN INFORMATION DETAILS PAGE
Extra information on the Houses.
Situated in this unspoilt part of Spain lies these 2 newly developed property's which both feature 3/4 bedroomsThe upper double master bedrooms both have a balcony to the front with beautiful sea views and 42" flat screen TV they have a ground floor twin and two upper bedrooms with twin beds and adult bunk beds. All bedrooms have large spacious built in wardrobes and TV.
The balconies have seated areas for alfresco dinning and private morning breakfasts. Each house has two bathrooms one upper with full size bath and shower and one on the ground floor complete with shower cubicle. The front doors lead directly into very spacious living rooms complete with sky 42" flat screen TV with some English channels DVD/videoSony Play station 2 and cd/cassette/radio. The living rooms have 2 luxury sofas that allows each of the accommodation to seat 8 people. Their is also a baby travel cot highchair and a fold down push chair for families with small children. The dining rooms forms part of the living rooms with pull out extending table and seating for 8. Each house has a separate kitchen with hob oven large fridge/freezer microwave and cooking utensils. The rear of each property enjoys a secluded area for private dining with patio furniture and sun umbrella and BBQ for outdoor cooking. Alternatively it can also be used for private bathing. Their is an outside shower area with a small utility complete with washing machine clothes line and outside sink basin. The property also offers off road parking has hot & cold air conditioning+ fans in all the rooms and are alarmed. They have large gated communal swimming pools with child areas. The houses are just 2 minutes walk to a beautiful beach which has all types of water sports available. There are also 8 large bar/restaurants that do very good English food as well as Spanish. A supermarket pharmacy with some English speaking staff and several other Spanish and English bars and Restaurants plus four beach bars/Restaurants are also a two minute walk away from the house. For the more sporty you can hire mountain bikes locallyWhat better way to see the local scenery the famous salt lakes with its pink flamingos and the parrots flying round on the beach plus there is lots more to see and do. Five minutes walk away is a big go-cart track great for the Adults and kids.
La Manga Strip ... the "sleeve" of land that runs from Cabo de Palos in the south to San Pedro in the north is 18km long and encloses the warm tranquil waters of the Mar Menor to the west and has the livelier colder Mediterranean to the east. The Strip is up to 1km wide in parts and in others is is merely 100m allowing only for the road to run through with a beach on either side. La Manga Strip is a town in its own right, albeit an long thin one! There are shopping centres, restaurants and bars set in plazas or squares.
The marina at the Puerto Tomas Maestre is beautiful and houses some stunning boats and yachts that most of us can only dream of, but the restaurants are great and the atmosphere is wonderful. You can take a ferry trip from here to the **mainland** morning trips are best you may get the Spanish air force practising overhead.
The area is best know for the La Manga Club resort, renowned for its three championship golf courses, LTA Tennis Centre Training Ground and being the training ground of visiting football teams from the whole of Europe. There are over 22 tennis courts with the option of booking tennis coaching on an hourly or weekly basis. Short tennis, squash courts, bowling green and pitch and putt to name but a few of the sporting attractions. For the evening there are over 25 restaurants and bars to dine in and to relax and enjoy yourself. These range in style and price from the Amapola Restaurant at the Hyatt which is superb but a little expensive to Si bar for inexpensive dining with family entertainment.
Water sports ... well there could not be a better or safer place to learn to sail, jet ski or kite surf. The area has a number of sailing schools with a wide range of boats and dinghies on which to learn to sail or to brush up your sailing skills. Diving is a popular sport and there are a number of different diving schools offering anything from the beginners course to night dives for the more experienced diver.
The La Manga Del Mar Menor / Playa Paraiso, La Manga Del

Mar Menor area
Next to Playa Paraiso is Playa Honda, about a 10 minute walk from the house where you will find 2 British bars/restaurants the Apicoco and Brambles and 4 Spanish. One of the Spanish ones is called the Malvinas and offers high quality food and wine. Expensive by Spanish standards but cheaper than London prices. The Juliet is mainly a restaurant but has a separate bar, and the Casablanca is renowned for its menu del dia served from about 1 till 6. It is very popular with the ex pats. After 6 its mainly a bar but serves great Tapas. Further along the prominade is Julians bar again very popular.
10 minutes further along the beach is another restaurant/bar at the back of the camping caravan club again very popular.
Playa Honda also has a small but very well equipped supermarket and a chemist, very good at herbal remedies.
Going the other way along the beach just around the corner is a very classy Spanish restaurant and just beyond that a very novel cocktail beach bar check it out.
Cabo de Palos just go there,in the morning for a coffee, the afternoon for a walk, the evening for a meal, midnight for nightlife.
The Spa at La Manga Club is well worth a days visit and at a price of 28euros per day (price can vary) it is a great day out. Enjoy or struggle through one of the exercise classes, use the fantastic gym and then flop by the large indoor pool with sauna and steam room. If you book a treatment, eg a massage, body scrub or one of the many other treatments you can use the jacuzzi pools. These vary in temperature and intensity. You can stand under the jets or sit in the jacuzzi and let the bubble surround you. There are other hotels along the Strip which also offer spa facilities.
Treat yourself to a day on the pleasure yacht Sailaway for a truly amazing day out. This lovely old wooden hulled but fully modernised yacht is moored in Cabo de Palos harbour and does day trips in the Med with lunch included.
The vibrant town of Cartagena is 20 minutes away. There are a number of tourist attractions which are really fun to do, I would recommend the open top bus ride and the trip around the harbour on the catamaran. If you do not want to have a history or culture lesson then the shops are fantastic, and it is a great place to buy clothes and especially shoes and handbags. Then take a long and lovely lunch over looking the harbour in one of the many cafes and restaurants on the front. The town itself is friendly and safe.
Venture further up the motorway to Torrevieja to the water park. Fun, scarey and wet!
Or for an excellent full day out visit Terra Mitica in Benidorm. This theme park has many rides and attractions. The excellent thing that I believe makes it very different is that it caters for smaller children as well as big kids. There are bumpers cars, for example, with a height restriction to stop children over age of 8 using them, so the small ones can enjoy pottering around slowly, and of course the bigger ones and the really big kids have their own bumper cars to use right next door. All the rides for adults and larger children are available in small form for the little ones. But if drop towers and roller coasters that turn through 360 are your thing then there is plenty of fun to be had at Terra Mitica. If however, these terrors turn your stomach there is so much more than these to enjoy. Surprisingly queues are not long and it is very well organised, also surprisinglly the restaurants within the park are not expensive.
Closer to home at Murcia is the all new Terra Natura. This is a zoo park with rare and unusal animals in large natural enclosures. You can literally come face to face with bear cubs behind a glass screen, wolves and lion, girafes and zebras. There are lots of animals to see in this carefully constructed and ultra modern zoo. That is the first part, the second part of Terra Natura and on the same site is the water park. Great fun and with almost no queues. There are not as many slides as in the park in Torrevieja but the queues are almost non existant (unlike the water park in Torrevieja) so you get lots of go´s on the slides. The slow river is fun to float around in and there is an excellent series of shallow pools with climbing frames and slides. Only the brave will be able to face the enclosed steep slide.
Playa Paraiso is a recent development of a few hundred properties, mainly houses and bungalows.
A growing selection of photographs can be found on our photo section.
The location is excellent - nearby, within a short drive, you will find Cabo de Palos, a fishing village complete with its own lighthouse, La Manga Club resort (with it's famous golf courses, tennis academy and sports pitches), nature reserves, safe beaches all around the Mar Menor - more rugged, unspoilt beaches on the Mediterranean side of the La Manga strip.
Local shopping facilities are good, and it is only a short drive to the Parque Mediterráneo, a huge retail park just before entering Cartagena on the main AP7.
There are many sight-seeing opportunities and excellent restaurants. La Manga Strip is on the doorstep. An added attraction is that it is just 15 minutes from San Javier Airport which has direct flights from many UK airports
Work has finally been sanctioned for the new international airport at Corvera, and the road network is constantly being improved by the opening of additional sections of motorway. It is now much easier and quicker to get to places like Mazarron, Campasol, even a return trip to Almeria is a comfortable days drive.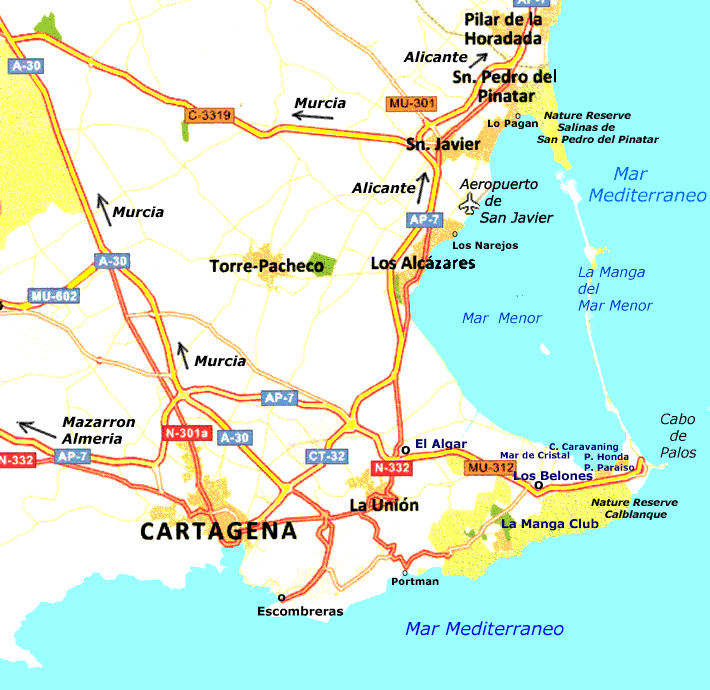 The best advice for anyone coming to the area is to travel light. Between late November and April you'll probably need a sweater and light trousers for evenings (and possibly the odd rare cloudy day) and of course your swimwear. But any other time of year you only really need the bare essentials as its so hot.
Without a shadow of doubt Costa Calida and La Manga strip has some of the most impressive beaches in the whole of Europe. There is such a vast expanse of sand here. From the Golden sand dunes in the north to the miles of flat beaches in Costa Calida in the south. This makes La Manga an ideal destination for the beach lover. These are the beaches that charm thousands of tourists to this beautiful area every year. With three thousand hours of sunshine a year, La Manga is the closest area to the Algeria coast and is the second largest of all the resorts. The weather conditions of Costa Calida are very similar to Florida and Mexico which are on the same latitude, which make this the ideal holiday location.
Enjoy the lifestyle of Spain in the Mar Menor. There are fabulous stretches of unspoilt beaches, wonderful bars and seafood restaurants. Murcia and Cartagena both have excellent shopping centers and there is a market every day of the week in a nearby village. 15 minutes cycle ride from the houses is the best market at Cabo de Palos, by the harbour, on a Sunday morning, selling everything from fresh fruit, vegetables, hundreds of shoes and handbags, clothes and lots of other exciting things! For a more energetic holiday there is fishing, sailing, windsurfing, jet skiing, kite surfing, pedalos, scuba diving, surfing, snorkelling and lots of paddling and swimming. A great place for an active or relaxing holiday!
WE ARE IN A GREAT LOCATION JUST OFF THE LA MANGA STRIP, YOU CAN SEE BOTH HOUSES ARE NOT FAR FROM EACH OTHER AND ARE IDEAL TO BE RENTED OUT TOGETHER FOR LARGER PARTIES! BUT PLEASE BOOK EARLY!
Entertainment: Spoilt for choice! There are many restaurants near to Playa Paraiso offering traditional Spanish food including Tapas. Close by, La Manga has a large number of beaches totalling 40km .It offers both Mediterranean and Mar Menor seas which have very different water temperatures, salinity, one with waves and one practically calm all year round.
If nightlife is what you are looking for it has this in abundance. Quietly situated a short distance away is Cabo de Palos with its fresh fish restaurants and popular Sunday morning market. In Los Belones village you will find the local Indian Restaurant, ice cream parlours, cafes, a fantastic Bodega (wine cellar) and more nightlife. Cartagena (one of the oldest cities in Spain) offers a cultural and historical reference point. There you will find a navel museum and the department store- El Corte Ingles as well as many other major stores.
For those more sporting the Mar Menor offers International Sailing Clubs, scuba diving at Lslas Hormigas and other water sports.
If golfing is your sport then you can't get better than La Manga Club. Situated just 5 minutes drive away it offers 3 championship courses. It has also become a favourite for top European Premier League football teams to practise their training due to the exceptional climate. Recently La Manga Club was used for the filming of Superstars. The complex also offers exceptional nightlife with live bands, disco, fine dinning and casino.
The Mar-Manor is in the back ground of this photo, So you can see how close we are to La-Manga Golf Club
Golf Information
Unknown to many visitors is the easy access to at least 26 other 18 hole golf courses in the Murcia region including, Villa Martin, Campoverde and Campamore which are all very good courses., in addition to the three courses at La Manga Club. They are all very well maintained and definitely worth visiting whilst staying in the Costa Calida, if of course your are golfer! And, not forgetting considerably less expensive than playing the La Manga Club courses.
Course information and booking tee off times.
Villamartin, Torrevieja Again within 45 minute drive of Los Belones this course is as old as the North and South Courses at La Manga Club, inaugurated in 1972. Another Par 72 and 6,132 metres in length Villa Martin is internationally known, although it has been known to suffer from overplay. Again situated on the outskirts of Torrevieja it also can be a headache trying to park near the entrance. If you have the time it is worth playing to compare against the rest and because of the name!
Altoreal, Murcia
A challenging 6,200m 18 hole course situated only a few kilometres north west of the city of Murcia. Within a comfortable 60 minute drive from Los Belones. The Course was designed by Dave Thomas, who designed the West Course at La Manga Club. The Course covers an area of two 9 hole courses which both begin and end at the same point. It is a Par 72 Course with 6 lake areas and many sand traps! In summary eleven Par 4 holes; three Par 3; four Par 5; in a natural environment with more than 20,000 trees including olive, pine and carob trees. Golf equipment, golf school, bags and caddie cars can be hired. The Club has a very pleasantly appointed Club House with Cafa Bar Restaurant to offer you that all important post round refreshment.
Las Ramblas, Torrevieja
Right next door the Real Golf Club is another more challenging 18 hole course. This course was inaugurated in 1991 and is a sister course to Villamartin and La Finca. The fairways and greens meander through small treelined valleys crossing ditches and dry river beds. It is 5,770 metres long and has not too many opportunities to use your 1 Wood, but if you play to the Par 72 on your visit you are doing well. It is an enjoyable challenge not the most favoured course in the area and the Club House and facilities are disappointing. Due to the "uphill down dale" nature of the course it is worth hiring a buggy, but mind you in the summer months unless you are fit it is worth hiring a buggy on all the courses!!
Real Golf Club, Lomas de Campoamor
The closest golf club to Los Belones is a very attractive 18 hole course south of Torrevieja. In the centre of the Course is an impressive 4 Star Hotel which houses both the Club House and cafa bar and restaurant. The terrace outside the bar has amazing views overlooking the course and in the distance the Mar Menor and Mediterrenean. The Golf Club is a comfortable 40 minute drive up the A37 motorway to Torrevieja from Los Belones. It is arguably the easiest playing course out of the five listed with open fairways forgiving the player the occasional miss hit! Worth a visit if not solely for the views in the bar and restaurant afterwards!
La Finca, Algorfa The newest course in the area was opened in 2002 with many resident golfers at La Manga commenting on what a great course it is. It is testing for all golfers whatever their ability. It is a very attractive panoramic course with many water features and plenty of obstacles to test your game. Great restaurant and bar. Within easy 75 min driving time from Los Belones up the A37 Motorway.
La Manga Golf Resort, Club opened in 1971. The North and South Courses at La Manga are located in a valley surrounded by mountains and with stunning views of the Mar Menor. Palm trees abound in these two courses, while the West course, sited in a mountain was carved out of a pine forest. The Club offers an excellent golf shop, caddies and one of the best practice areas to be found in Spain, with 90 driving range bays, 3 putting greens, short game area and practice bunker. The La Manga Club Golf Academy organises comprehensive training courses for all levels of players, and private tuition.
The Mar Menor (especially in the vicinity of Costa Calida) offers the largest therapeutic open air mudbath of Europe. The mud is well-known for its many minerals what stimulates the healing process. A mudbath treatment is recommended for skin problems, rheumatism, arthritis, throat infections and rehabilitation.
The waters of the Mar Menor are rich in minerals as magnesium, calcium, sodium, iodine, bromide and fluoride. This water in combination with a mudbath is very effective against arthritis and rheumatism. Specialized residences offer advanced treatments, like a hydromassage bath, all under supervision of medical specialist.
For those with medical conditions it is reported that the Mar Menors very fine mud / sands offer anti-inflammatory elements in cases of rheumatism, arthritis, gout and rehabilitation after breaking bones.
Adjacent to the Mar Menor are natural salt lakes where people come daily to apply the mud from the bed of the lakes to their bodies. They then cross the road and wash it off in the Mar Menor.
The Spanish firmly believe that this process relieves aches and pains and is especially popular with those who suffer from arthritis and muscular problems. This theory is supported by many doctors and medical experts in Spain
and indeed across Europe. The world health council has stated that the region is one of the healthiest places in the world to live.
Information on Scuba-Diving
The Mediterranean coastline offers fantastic scuba diving opportunities and throughout Spain there are numerous diving centres and clubs.
For more information see pages:
Dive training & education. Costa Blanca area. Tel. 667057640
E-Mail:. [email protected]
BBC 5 day weather forcast for Spain
Situated just 20 minutes drive from San Javier airport & 55 minutes from Alicante this region favored by many Spanish offers a unique costal feature called the Mar Menor. The crystalline waters of the Mar Menor, ideal for swimming & water sports lie just 2 minutes walk from the door. It offers its own unique beaches & sea life along with its climate. 320 days & 3000 hours of sunshine a year & the temperature of the water reaching up to 30oC in August gives you the largest heated swimming pool in Europe! A small drive opens your holiday up to the sandy beaches of the Mediterranean, the beautiful area of the Calblanque

National Park, and the costal historic cities of Cartagena and Murcia. If golfing is your game you will be spoilt for choice, only 5 minutes drive takes you to the prestigious La Manga Club. Offering first class courses, evening entertainment and casino. Playa Paraiso offers easy access to shops, pharmacy, banks, go carts, restaurants & bars, providing the perfect holiday.

Spanish Fiestas

Spain information

LOS NAREJOS is a small spanish resort on the Mar Menor Lagoon, with a variety of shops and cafes. There is a shopping mall within 6 minutes stroll with a supermarket, a variety of shops and cafes and a cinema. 15 mins walk away is the Oasis area where there are a number of bars, restaurants, cycle and car hire. There are Spanish restaurants a short walk away towards Los Narejos/Los Alcazares town centre. There are conveniently situated banks, and a local Spanish market every Saturday morning. A short stroll away is the beach area with a tiled, palm-lined promenade running alongside the Mar Menor Lagoon. If you continue along the promenade you will come to a more livelier beach area with sun beds and pedalos and further along to Los Alcazeres, a popular resort with a sandy beach, bars, cafes, shops. The whole area is very flat and is ideal for cycling or just promenading. The area around Los Narejos is full of lively small resorts and historical towns. From Los Alcazares pier you can take boat trips to nearby islands, view the Mar Menor by night,or perhaps take a BBQ trip. The nearest tourist office is located in Los Alcazares. The nearest of the many golf courses in the area are Torre-Pacheso which is 12 minutes away by car and La Manga Golf, which is 15 minutes by car.

Spain is blessed with one of the healthiest climates in the world according to The World Health Organisation who recognise this region as one of the healthiest on the planet. The slower pace of life (the Spanish siesta) is also beneficial for those who are prone to stress. It is said that the health and well being of people who live in hot climates are generally happier and more relaxed than those who live in cold, wet climates such as Northern Europe. Spain boasts over 320 days of sunshine per year, extremely low rainfall and mild temperatures. Even in December the temperature rarely drops below 17 degrees.

THE MAR MENOR LAGOON - The Mar Menor is a natural wonder - a vast salt-water lagoon separated from the Mediterranean by 2 strips of land called La Manga. The waters of the Mar Menor cover 120 square kilometres and is no where more than 7 metres deep, making it perfect for bathing in the beautiful clear and warm shallow waters. It is renowned for its benevolent chemical properties and is classified medicinal. The high concentration of salt and iodine, the absence of strong waves and its exceptional temperatures convert the Mar Menor into the best therapeutic remedy. There is a very good spa area a short car journey away.

LOS ALCAZARES (Next resort) offers seven Kilometres of coast line with the town centre with its bars shops etc situated on the shores of the Mar Menor. It offers all types of water sports all year round, various sport activities such as tennis, squash, football and horse riding, wonderful sea views and green areas to take a walk. The beach is fully equipped with showers and fountains.

TORREVIEJA - A large working Spanish city half an hours drive away surrounded by two natural lagoons, this city offers beaches, a large and exciting water park (opening May to Oct), and sunshine nearly every day of the year. It has a long promenade lined with cafes etc and lots of shopping streets. The main shopping centre is just off the seafront and offers something for everyone, from designer clothes to ceramic gifts. Everything is sited around the promenade which is popular with spanish strollers in the evening. The market runs from 12am to 10.30pm along with a fun fair, parking is very easy just off the seafront. There is sea bathing from the rocks alongside the promenade along with a long beach area. Torrevieja has Europe's oldest and most famous large salt flats which are designated natural parks and have more than 250 recorded species of birds feeding including flocks of flamingos. The Park of Nations is another of Torrevieja's favourite attractions, this incorporates a large park for the children with train and boat rides and a large playground complete with life size dragon.

LA MANGA This is the resort with everything. From June to September it is very busy with losts of places to go eat drink and dancing. It is flanked by the crystal waters of the Mediterranean and the Mar Menor. This area boasts three world class golf courses, a superb tennis centre, a casino, fine restaurants and hundreds of bars and clubs.

CARTAGENA - Half an hour drive. Built around a natural harbour, a Roman port which has some of the best museums, superb architecture and atmospheric streets with numerous designer and quaint shops. All the shops are within walking distance of the harbour side where there is easy underground parking.

ELCHE - A former Roman Colony, Eleche boasts the largest palm grove in Europe with over 300,000 palm trees in and around the city. There is a lovely park Huerto del Cura (small charge to get in) to stroll around.

LA ZENIA - A very popular beach resort with a large white sandy beach and a few beach cafes. It has a lovely restuarant overlooking the beach.

Cabo de Palos - An old fishing village, with its own lighthouse. At its point past the harbour there are many restaurants overlooking the sea which is very popular each evening to just eat and drink and admire the sunset.Cabo de Palos downtown has a lot of nightlife where you can go and drink and listen to music and dancing, open 11pm to 4,5 or even 6am. Then you can have breakfast and make your way home. The music bars are located within the triangle of three streets, Plaza de Los Arcos, Calle Salero, Calle Marin.

LA MARINA A coastal village with excellent facilities, great expanses of beach and dune beside sparkling seas.

GUARDAMAR DEL SEGURA A taste of real spanish living, a charming and well presented town full of character, parks and fountains. Splendid nearly beaches set against the backdrop of rolling sand dunes and lush pine forest.

ORIHUELA AND THE ORIHUELA COSTA A beautiful acient city inland from the coast. Lots of traditional narrow streets, modern amenities and ancient history. Orihuela Costa has beaches, marinas and 3 prime golf courses.

THE SIERRA ESPUNA NATIONAL PARK 25 Minutes drive or even closer, just by the city of Murcia is the Sierra de Cassascoy, this is for walkers and lovers of nature. The mountains offer cycle, horse and walking tours and white water rafting.

MURCIA Beautiful provincial capital city, it has retained it Moorish heritage, yet offers many fashionable boutiques and upmarket department stores

This is more for shop till you drop kind of people.

NEARBY NIGHTLIFE LOS NAREJOS is fairly quiet, with bars and restarants, and a couple of disco pubs a short walk away. LOS ALCAZARES has lots more in the way of music bars, pizzerias, and spanish restaurants.The most poplular places for discos are in the La Punta area of Torrevieja where there are more than 70 disco-pubs and also The Avenida de Las Habaneras has a number of nightclubs. These are ultra-modern and are open until 5am. Also See above Cabo de Palos downtown, and La Manga. Eating out is very cheap and a two course meal for 4 people can cost from 20 Euros. (around £15.)

THE MAR MENOR, A FOUNTAIN OF HEALTH The shallow waters and the absence of tides make the Mar Menor the ideal place for all types of water sports. As a result of the efforts of many of the business proprietors here, it was the first area in Spain to become known as an Estacion Nautica (Nautical Resort), with the prime object being to promote tourism during out of season months, especially in the field of water. With a total surface area of 170 square kilometers (over 60 square miles) it is the largest salt-water lake in Europe. The waters of this lake have an average depth of 3.5 metres, with a maximum of 6.5 metres, and its perimeter extends for some 73 kilometers (approx. 46 miles). It is a magnificent natural swimming pool with temperatures, which are maintained by a sun that shines for an average of 320 days each year. This provides water temperatures in the winter months of 11C, which rises to 30C at the height of the summer. The waters register a saline content of 50% (the highest in Europe) and are scientifically recognized as being therapeutic in the treatment of rheumatism, arthritis and many other ailments. The Black Mud from the Mar Menor, although creating a strange sight when first seen smothered over the bodies of some of the visitors, is used to relieve the pain and the symptoms of these condition.

A PARADISE FOR NAUTICAL SPORTS Throughout the length of La Manga there are ten teaching centres (Escuelas de Vela) which means that no one need travel far to practice the water sport of their choosing. All of the centres offer the best and most up-to-date equipment with courses in sailing and wind-surfing tutored by qualified instructors who normally speak at least one language other then Spanish - normally English and/or German. Many of these schools also offer courses in the sailing of catamarans, canoeing, water skiing, and most other nautical sports including deep-sea diving. They are located on the shores of the Mar Menor in ideal conditions.

Scuba and deep-sea diving have seen a considerable increase in activity during the course of the past few years. The presence of many underwater archaeological sites, sunken ships have turned the area of La Manga and Cabo de Palos into one of the most popular spots for divers from all over Spain. Diving clubs and schools exist both at Cabo de Palos and in La Manga and these organize courses throughout the year with daily trips by boat and offering equipment to rent for the newcomers.

Apart from the water sports, La Mange offers a great variety of other activities. There is tennis clubs with courts open to the public all year round, plus paddle tennis and squash in addition to a roller-skating rink and full size go-kart track. The road, which runs through La Manga, has been built to offer the cyclist the safety of a cycle-lane and the absence of hills throughout the strip

The towns themselves around the Mar Menor and in the Costa Calida area are small and inviting, the people friendly and accommodating. In many of these towns the town councils have a strict policy of only allowing building of low rise properties, thereby ensuring a pleasant skyline.

Many residents dont have central heating in their homes. It is simply unnecessary! The unique sunny and warm weather allows golf to be played all year round with over thirty golf courses in the Costa Blanca, Costa Calida and Costa Almeria - with new courses under construction firmly establishing these Costas as the winter golf destination of northern Europeans. All the courses are located near towns and you can never be more than a few kilometres from a golf course. There are courses for the experienced players and others for the keen amateur. Some courses are essentially for members and others for the public. One thing is for sure, all courses will challenge your golfing ability!

The Costa Calida is situated in the South-East of the Iberian Peninsula. To the north lies the Costa Blanca and to the south the Costa Almeria. There are over 250 kilometres of coastline made up of small inlets, coves and sandy beaches. The waters are wonderfully unpolluted and perfect for sub aqua activities with clear views of the Mediterranean flora and fauna such as sea bass, moray and moonfish. The people are gentle and helpful, the whole region is well worth taking the time to explore and the good living is to be enjoyed. The Costa Calida is one of the healthiest places on earth to be. The area is sheltered against Meseta winds making the temperature pleasant throughout the whole year. Access is easy as the area is just over an hours drive from Alicante and is also close to Murcia Airport. Unspotted by the holiday mass this area is still in the early days of development. It is therefore not overcome with bars and restaurants though these can be found in Puerto de Mazzarron and around the golf courses. The scenic routes across the Algarrobo range are delightful; there are rabbits, partridges and foxes roaming and it provides a natural habitat for kestrels and species of wild eagle. The mountain areas are abundant with wild thyme, rosemary and lavender, which can be found complimenting many local dishes. Mazarron is famous for its plethora of wonderful seafood dishes; mouth watering local dishes include bonito fish and noodles, peppers, garlic, sautà tomatoes and aniseed.

Spanish Dictionary

Dictionary of Spanish

Learn Spanish

BBC Learn Spanish

Revelinluxury: Spain, Cyprus, Bulgaria and Cape Verde www.revelinluxury.com

0

/